Local Oral Surgeons in Spring Lake, NC
At Spring Lake Oral Surgery, we strive to improve lives one smile at a time. Whether you're missing teeth, experiencing tooth or jaw pain, or dealing with another dental health concern, our experienced team of oral surgeons is ready to help you find a personalized solution that gives you back a healthy smile.
We believe in a judgment-free environment where you'll never have to feel embarrassed about your dental needs. We also make use of the modern technology, including digital and 3D X-rays, to give you the most efficient and effective care possible. When you're here, your health is in good hands.
Meet Our Expert Oral Surgeons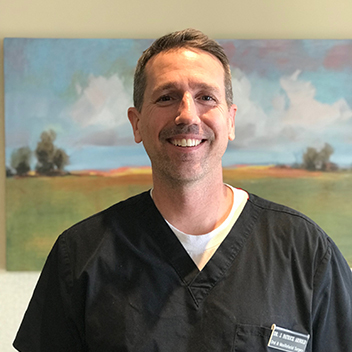 Dr. J. Patrick Arnold, DMD
---
Dr. J. Patrick Arnold, DMD
---
"My goal as a provider is to provide compassionate care to all. I realize that it can be scary coming through the doors to see an oral surgeon and I want my patients to know that I will be there for them not only before and during the surgery, but afterward also. The patient always comes first in my practice."
Dr. J. Patrick Arnold graduated from Temple University School of Dentistry in 2003. He then attended the Fort Carson 1 year AEGD program to advance his skills in General Dentistry. This led him to the Dwight D. Eisenhower Army Medical Center OMS Residency Program, which he completed in 2009. Immediately after residency, Dr. Arnold was stationed at Landstuhl Regional Medical Center, located in Germany, where he was able to work on wounded warriors from all over Europe, Iraq, and Afghanistan. He became board certified in 2011 and soon after entered the realm of academics.
Experience
One-Year Advanced Education General Dentistry program in Colorado Springs, CO
One-Year Oral Surgery Residency Program at Dwight D. Eisenhower Army Medical Center in Augusta, GA
Diplomat of the American Board of Oral Maxillofacial Surgery
Faculty for AO Trauma
Inducted into the Order of Military Medical Merit
Academic Training Director for the San Antonio Military Medical Center OMS Residency Program for 3 Years
Contact Us
What Treatment Are You Interested In?