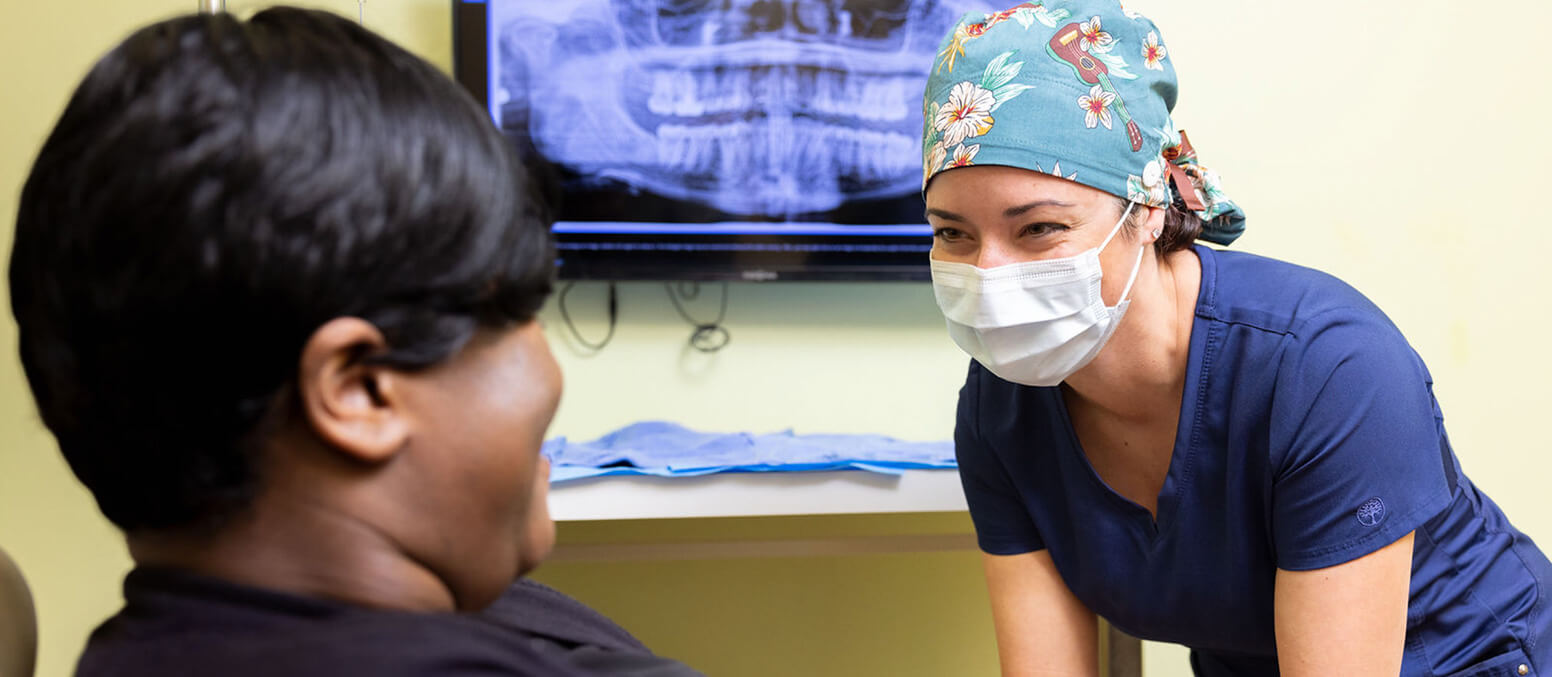 High-Quality Dental Implants in Spring Lake, NC
Have you a lost a tooth, or maybe multiple teeth? Thanks to advancements in dentistry, you have more options than ever when it comes to restoring your smile. One that has become widely popular with patients and dental professionals alike is dental implants. At Spring Lake Oral Surgery, we provide a full suite of dental implant services, from single-tooth replacements all the way to denture stabilization. If you're ready to get back a healthy, beautiful, full smile, set up a consultation at our practice today!
How Dental Implants Work
The driving idea behind dental implants is to mimic the look and function of a natural tooth. The implant itself is a small post meant to serve as the artificial tooth root. That means it's secured in the jaw, stabilizing the bone. After we surgically place the implant, we give it time to fuse together and for the area to heal.
Once that's complete, we attach a connector piece called an abutment and then place the restoration, which could be a dental crown, bridge, or denture depending on your case.
After we surgically place the implant in your bone, we give it time to fuse together and for the area to heal. Once that's complete, we attach a connector piece called an abutment and then place the restoration.
Single-Tooth Replacement — If you have one tooth missing, we can place a single implant in the space and then bond a custom dental crown on top.
Multi-tooth Replacement — If you have multiple teeth missing, we can attach a row of replacement teeth to dental implants on either side of the gap.
Implant-Supported Dentures — If you are missing an entire arch of teeth, we can place multiple implants that your denture will snap onto.
Am I a candidate for dental implants?
While many patients are great candidates for implants, not everyone is. Before one or more implants are recommended for completing your smile, we will assess your oral health, overall health, and medical history to ensure that you are a good candidate and reduce your odds of implant failure. Having a healthy jawbone or being willing to have a bone graft procedure, being a nonsmoker or willing to quit, and being in general good health are important factors for determining if someone is a good candidate for dental implants.
Should I get a dental implant or a bridge?
Some patients choose to use dental bridges to replace their missing teeth due to the fact that they are a less invasive treatment option. However, many patients choose dental implants over bridges because of their natural look and feel, their longevity, and the fact that implants do not require any nearby teeth to be modified. Not sure which treatment option is right for your smile? Feel free to schedule a consultation with our team, and we will be more than happy to assess your smile, preferences, and needs to help you make the right decision.
Advantages of Tooth Implants
Wonder what's so great about dental implants? They actually have many different benefits that range from their appearance to their convenience to their affect on your oral health. These are some of the main advantages to dental implants:
Natural Look & Feel — Dental implants are carefully designed to resemble the appearance and feel of natural teeth. We bet most people won't be able to spot which one is the fake tooth. You won't even notice the difference yourself in how it feels compared to your other teeth.
Permanent Placement — Since they're fixed in place, dental implants don't require adhesives to stay secure. That means you also won't have to worry about them slipping or potentially falling out.
Durability — As long as you practice good oral hygiene, your tooth implant is designed to last you many, many years.
Stress-Free Maintenance — There are no special cleaning products or added steps to your at-home oral care routine with dental implants. Just brush and floss them like you do with your other teeth!
Positive Health Effects — Dental implants make sure the teeth surrounding the open space don't shift and mess with your teeth alignment. They also stimulate the jawbone like natural teeth do, keeping it healthy.
How long does it take to recover from a dental implant placement?
It typically takes a few weeks for patients to recover from a dental implant placement. During this time, an important process called osseointegration must occur, which is when the implant fuses with the jawbone. While a temporary implant crown can be used to complete your smile during this time, we recommend eating soft foods and being as gentle with your teeth and gums as possible. If a tooth must be extracted before being replaced with an implant, this will add some additional recovery time to your treatment plan as well.